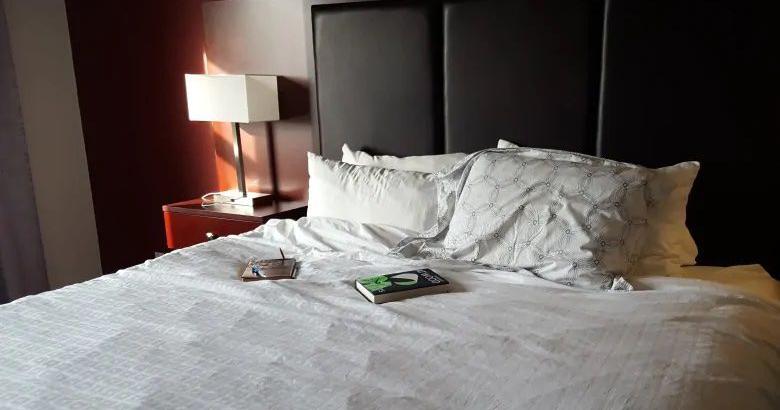 Canadians returning home neglected in quarantine facilities | New
Several Canadians returning from red zone countries said they were overlooked by hotel staff during their quarantine. In a video taken at a quarantine facility, hotel guests can be heard screaming for help. Woman with seven year old shouting "shame on you" as staff ignore her.
Sarah Shoucri has been quarantined in a hotel since returning from Nigeria on Monday. She is double vaccinated and had a PCR test before leaving Africa and another in Frankfurt, Germany, during a layover – both results came back negative. Back in Montreal, she waits for a third negative test result before she can return home. Shourci said hotels are unable to accommodate the large number of people currently in quarantine at the facility, causing major service disruptions. Meals were delayed, some were left without food for nine hours, according to hotel guests. "I basically ration my food in case the meals don't come," Shourci said. She sees the situation as a mismanagement of public funds.
A woman, currently 18 weeks pregnant, who wished to remain anonymous said she was stuck in her room with no food or water. "There was no food on site, there was no water in the rooms, there was no water in the building," she said. She blamed the government for being disorganized over the lack of access to food and water in a quarantine facility. She was returning home from Nigeria after visiting family when travel restrictions suddenly changed. She said her basic needs are not met under a mandatory government health and safety protocol. She has yet to receive her PCR test result, which will delay her flight back to Ottawa.
"There has been a big increase in travelers from the red zones, so that explains a bit of the rush […] Our job is to support travelers as best we can. We don't make the rules, "said Jean-Sébastien Pariseau, spokesperson for the Canadian Red Cross. On Friday alone, 45 people had to be quarantined along with 100 other travelers on Monday. Pariseau said there are seven workers on-site from 7 a.m. to 11 p.m. to greet guests and that food delivery was late on Monday due to bad weather.