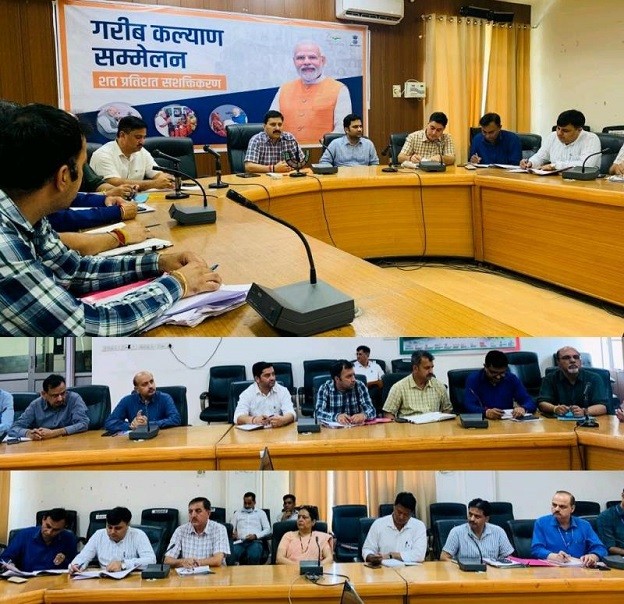 DC Kathua emphasizes timely provision of facilities for Shri Amarnath ji Yatra pilgrims
KATHUA, JUNE 17: Assistant Commissioner, Kathua Rahul Pandey chaired a meeting today to review the arrangements put in place for the smooth running of the 2022 Shri Amarnath Ji Yatra. SSP Kathua, DC State Taxes, Additional Assistant Commissioner, Principal GMC Kathua, DPO ICDS, Registrar (Yatra Officer), ACR, RTO and other officers attended the meeting.
The DC, while reviewing the progress of the arrangements, directed relevant departments to focus on completing the remaining works well before the start of the Yatra.
The DC also requested the nodal officers to provide the list of personnel to be deployed in Lakhanpur and along the yatra route for better follow-up and coordination of assigned duties for the facilitation of devotees.
The DC urged relevant departments to submit action plans related to drinking water supply, power supply, medical facilities, sanitation, installation of toilets, sanitation facilities, accommodation and custodial facilities, traffic and security arrangements, etc. He ordered the departments to work in tandem to finalize the necessary adjustments as soon as possible.
The DC also directed the officers involved to keep the contingency plan ready to deal with any eventuality.
He also called for the establishment of rosters of personnel to be deployed, issuance of identity cards and insisted on training and sensitization of personnel to facilitate yatris.
Leading relevant officers from the NHAI & Tourism department, the DC called for ensuring the installation of digital screens, billboards and signs on the Yatra road through the district.
The DC has also requested the ICDS DPO to ensure the display of local artifacts and SHG products in locations identified through the Handicrafts, Looms and NRLM departments.
It was announced at the meeting that dedicated cultural stalls will be set up at identified Yatra points for the entertainment of Yatris.
The DC emphasized the active participation and role of volunteers, namely NYC, NYK, NCC, NSS and civil defense organizations to ensure a hassle-free experience of the yatris.
The meeting also discussed at length the facilities in the accommodation centers, the lighting of black spots, the establishment of an SRTC meter, a control room, an emergency plan, the control of food and food quality, proper sanitation on Yatra road and enforcement of anti-polythene measures, etc.
SSP, RC Kotwal, while speaking on the occasion, briefed the meeting on the threat assessment and requested to remain vigilant in addition to raising public awareness of the threat perception to ensure peaceful conduct of the yatra.