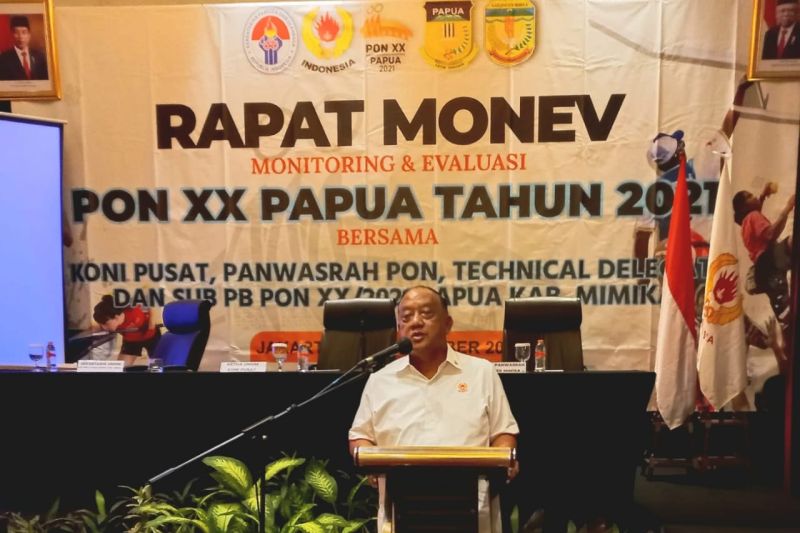 KONI urges Mimika to use Papua's PON facilities
I hope to see world class athletes born from the arenas that were used during Papua PON
Jakarta (ANTARA) – National Sports Committee (KONI) Chairman Marciano Norman called on Mimika District to use and optimize the facilities used during the XX Papua National Sports Week (PON) to produce athletes from quality.
In an official statement released on Friday, he said that Mimika District, as one of the four cluster sites for Papua PON, has international standard arenas such as Mimika Sports Complex.
At the XX Papua PON 2021 monitoring and evaluation meeting at the Red Top Hotel, Jakarta, he urged Mimika to create a plan so that the facilities can be used to produce quality athletes.
One of the suggestions he made was that Mimika regularly host world-class events.
"I hope to see world-class athletes emerge from the arenas that were used during Papua PON," he noted.
Norman also praised the organizing committee's determination to make the 20th edition of Indonesia's biggest sporting event a success.
"I express my gratitude for all your support which has certainly gone hand in hand with many sacrifices," he said.
During the event, an official of the Mimika XX PON organizing committee, Cessar Avianto Tunya, expressed his gratitude and congratulated the KONI power station for their support throughout the event.
This support included holding the XX Papua PON 2021 Monitoring and Evaluation Meeting from December 3-4, 2021, he said.
"This is all part of a collaboration of the committee for holding PON in Papua. In this opportunity, I would like to say that the objectives of this activity are monitoring and evaluation, "he noted.
The XX PON was held in Papua from October 2 to 13, 2021. Athletes from 34 provinces of Indonesia competed in 37 sports disciplines at the event.
Related news: Papua government designs sports facilities management plan after PON
Related news: President congratulates Papua on PON implementation, Peparnas well
Related News: Government Pledges To Accelerate Papua Development: Vice President