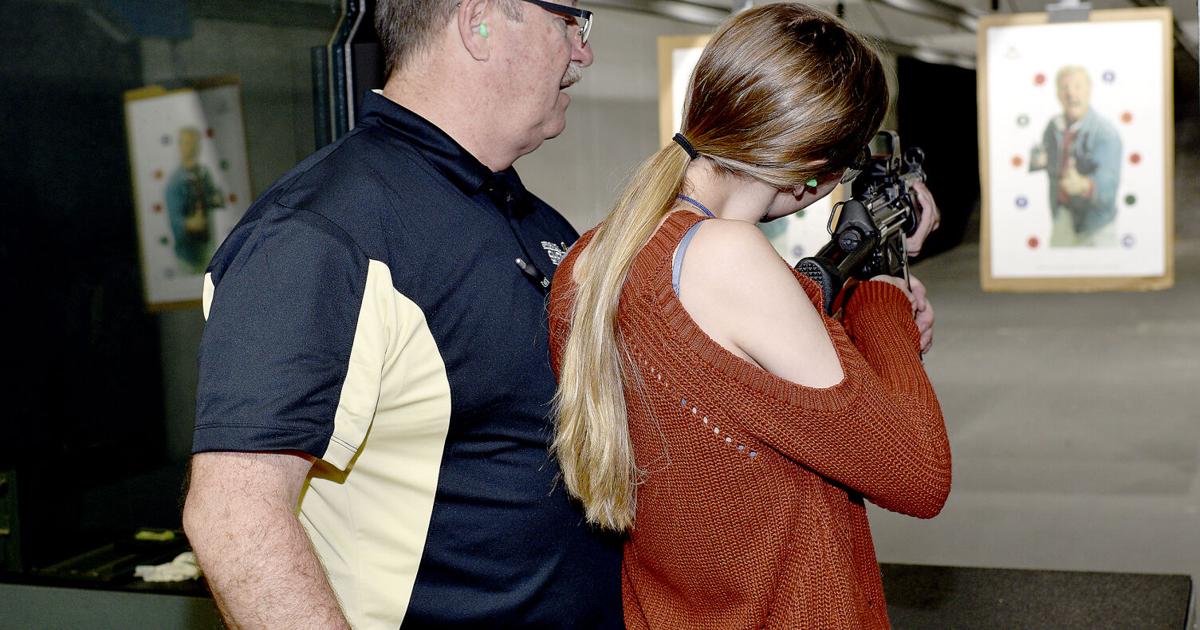 Law Day: Students Tour Effingham County Facilities | Local News
Students from Altamont Community High School, Dieterich High School and Teutopolis High School took a closer look at county government this week as they participated in the Elks Club's 65th Annual Law Day.
The county government team began their day Thursday with a tour of an Effingham County courtroom. Associate Judge Jeff DeLong met with the students to explain how the Effingham County court system works.
Altamont student Tristan Rhodes said he really enjoyed seeing the courtroom.
"I thought seeing the judge talk was pretty cool and I learned a lot from him," Rhodes said. "He explained what each person's job was and explained the different types of courts."
Another Altamont student, Samantha Coleman, was also impressed with the Effingham County courts.
"I love that the judge spoke to us and that we got to see the courtroom and where everyone is seated," Coleman said. "I have to try the microphone. It was pretty cool.
The group of students were escorted out of the courtroom for a tour of Effingham County Jail.
"I really enjoyed visiting the prison," said Jade Latta, a student from Altamont.
A Dieterich student, Morgan Larson, also enjoyed her tour of the prison.
"It's something you don't normally see. I might like to work there one day, but I really wouldn't want to have to stay (as a prisoner)," Larson said.
"I really enjoyed going through prison," said Mollie Koester, a student at Teutopolis High School.
From the prison, the group was bussed to Accuracy Firearms for the opportunity to fire a submachine gun.
Effingham County Sheriff Paul Kuhns met the group in a classroom for an introductory lesson before heading to the indoor shooting range. Kuhns was assisted Thursday by senior deputies from his staff, Chief Deputy Larry Finfrock, Lt. Travis Buhnerkempe and Deputy School Resource Officer Eric Higgs.
"What we were going to do in this little segment is shoot a machine gun," Kuhns said. "I get asked what firing a machine gun does for Law Day. Because it's funny. It's not intimidating and it's great fun to shoot.
He told the students that some people won't be able to shoot a gun like this unless they're in the military.
"It's an experience you may never get anywhere else," he said. "It's really fun to shoot."
Kuhns gave the students the story of the submachine gun they were about to use – Heckler and Koch MP5. He also reviewed safety procedures when entering the indoor range.
Each student was given earplugs and safety glasses and then individually escorted to the range for the opportunity to fire a submachine gun under the supervision of the sheriff.
Kierstyn Pals, a student at Teutopolis High School, was waiting for her chance to shoot.
"I've never shot it before, but I think it's going to be pretty cool. I'm a little nervous, but I think it will be fun," Pals said.
Fellow T-Town student Lauren Heuerman was also waiting for her chance to film.
"I'm excited. I've been waiting for this all morning," Heuerman said.
Dieterich High School student Khloe Tolch was thrilled to have the opportunity to fire the submachine gun.
"I've shot a gun before, but I've never shot a machine gun," Tolch said.
Ann Zumbahlen, a student at Teutopolis High School, finished her class, fired several rounds from the submachine gun while the sheriff stood nearby, and left the range after finishing.
"It was so much fun," Zumbahlen said. "I think it was a very cool experience."
During the afternoon hours, the students were put in contact with different county officials to better understand their position in the county government.
Gus Siemer of Teutopolis High School said he was very interested in the justice system.
"I can observe the state's attorney this afternoon," Siemer said.
HRT student Mollie Koester was looking forward to following Effingham County Coroner Kim Rhodes on Thursday afternoon.
"I'm really interested in this professional career and I want to see if it really interests me," Koester said.
"I just enjoyed everything. It was a fun experience to see how everything works. It's all behind closed doors and you really can't see how it all works," said Teutopolis High School student Casey Deters.
The Elks Lodge provided a meal for all students attending Law Day at the Elks Lodge 1016 clubhouse on South Banker Street with a special guest speaker from Kuhns at lunchtime.
Those who participated in the county government exploration were:
Altamont Community High School – Tristan Rhodes, Will Schultz, Jade Latta and Samantha Coleman.
Dietrich High School – Abby Zeurrusen, Khloe Tolch, Morgan Larson and Jack Bloemer.
Teutopolis High School – Kierstyn Pals, Kaela Neihls, Ann Zumbahlen, Lauren Heuerman, Casey Deters, Mollie Koester, Jessica Wolf, Gus Siemer, Ethan Thoele and Isaac Vahling.