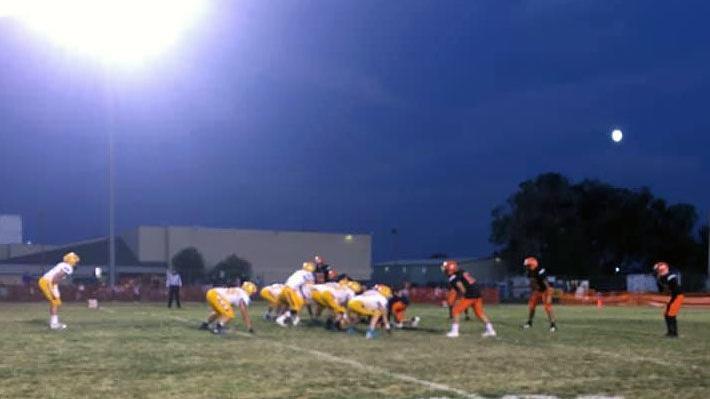 Lodge Grass COVID-19 Unrest Leads to Suspension, Reinstatement of Football Coach, Potential Sacking of AD | High school football
BOZEMAN – A halftime showdown in the Lodge Grass-Fairview football game last Friday led the Lodge Grass superintendent to suspend and recommend the dismissal of athletic director Dee Pretty On Top and head football coach Jerry Harris, which led to the possibility of a trial and Harris's subsequent reinstatement on Wednesday morning.
Big Horn County District Attorney Jay Harris – son of Jerry and an assistant football coach from Lodge Grass – was due to file a lawsuit in Big Horn County District Court to seek a temporary restraining order allowing Pretty On Top and Jerry Harris return to work when he learned from his father on Wednesday morning that Superintendent Trivian Rides The Bear had turned the tide of his suspension.
Pretty On Top said he remains suspended and will face the board at its regular meeting on Tuesday. Jay Harris said in an email Wednesday afternoon "legal action has been prepared and may be filed to ensure the superintendent's compliance with state law and district policies."
Jerry Harris will be the coach when Lodge Grass plays Thursday night at the Circle.
"I am delighted to be back in the locker room with my boys," he said.
The controversy stems from Friday night's game at Lodge Grass, when Rides The Bear asked Jerry Harris to remove a star student-athlete from the game at halftime due to the contact tracing for COVID-19.
Also a member of the Lodge Grass cross-country program, the student-athlete on September 11 rode a team bus on which a female cross-country athlete later tested positive for the coronavirus. Three other football players who did not take the bus but also ran to Red Lodge that day were also quarantined.
In what Pretty On Top and Harris say is the main problem, Lodge Grass Schools do not have a written policy for COVID-19, but instead follow CDC guidelines, seek advice from Indian health services, and borrow from the book of Hardin game nearby. On the advice of Health Services, the student-athlete, who was vaccinated, and others were sent home. Pretty On Top said it learned of the issue on Tuesday, September 14, and canceled Lodge Grass cross-country meets scheduled for this afternoon and Thursday.
Pretty On Top said he initially believed the four soccer players would not be in good shape for the Fairview game either.
On Friday, however, Jerry Harris told Pretty On Top that in addition to being vaccinated, the student-athlete had tested negative five times during the week, including that morning. In the absence of a school district policy saying otherwise, Harris added, there was no reason the student-athlete should not play.
As the student-athlete competed in the first half, Pretty On Top says he received a call from Rides The Bear asking for the player to be removed. Pretty On Top informed the player's grandparents of the potential conflict, and the grandparents confronted Rides The Bear and the board members.
Pretty On Top said he found the conversations so stressful that he briefly escaped his car to catch his breath.
"Take some time to understand and relax for a few minutes," he told 406mtsports.com, adding that he also received cell phone advice from Montana High School Association executive director Mark Beckman, who told him that COVID-19 protocols are a school-by-school decision under the governor's directive.
"It was an ugly scene. I couldn't stand and watch the game."
At halftime, Rides The Bear – who did not respond to messages left on his school phone asking for comment – and high school principal Corey Barron approached Jerry and Jay Harris on the sidelines and told them to remove the player. Jerry Harris told 406mtsports.com he declined for several reasons, including the school's lack of a written policy. He added that he also pointed out that the player had already played half of the game and that Lodge Grass could face severe MHSA penalties for stopping the game (Beckman told 406mtsports.com any game called for COVID reasons would be considered a "no contest" and not a forfeit).
"I said, 'This is not the place or the time to try to solve your problem,'" Jerry Harris told Rides The Bear. "'The student you are worried about has five negative papers. Why are you so adamant about removing an athlete?' "
Jerry Harris said he also asked what authority Rides The Bear had without a written policy. He said she showed him letters from the Indian Health Service and the President of the Crow Tribe.
"I informed her that these did not apply to Lodge Grass High School," Harris continued.
Rides The Bear told Harris and Pretty On Top that if the player wasn't on the bench, she would cross the field and forfeit Fairview.
"The players were visibly upset, telling him, 'Don't cancel the game,'" said Pretty On Top.
Jerry Harris added: "Do you realize we can be fined (by the MHSA) if we get off the field right now? It's all a box of worms, and I don't think you wanted to go that route. . If you stop everything, you're going to have 30 pairs of parents knocking on your door. "
At this point, Pretty On Top volunteered to ask Fairview coach Derek Gackle, whose team were leading 48-12, if the Warriors had any objection to continuing.
"We've played half the football already, and if he's been tested five times I'm good with it," Pretty On Top told him. "Let's finish the game. We've come a long way here.
Pretty On Top relayed Gackle's message to Rides The Bear and Barron, who then left. At the end of the match, a 62-20 loss, the student-athlete and another player in uniform were found by contact with the cross-country runner (her removal was not requested).
"We finished the game, which was my goal," said Pretty On Top. "But Trivian was very upset, saying I had neglected my homework."
Pretty On Top and Jerry Harris both said they hope cold heads prevail this weekend. Pretty On Top said they heard from the main match official and an MHSA official on Monday, both of whom supported him.
On Tuesday, however, Pretty On Top was called into the school boardroom for a meeting with Rides The Bear, Barron and a human resources representative. Towards the end, Rides The Bear said she was suspending him, recommending his dismissal and handed him a letter which he said cites "blatant insubordination".
Pretty On Top was asked to hand over the keys to her building and the credit card used to pay for the team's meals.
That same morning, Jerry Harris got a call at his home in Colstrip and was on the speakerphone with the same three directors. He read the complaint and informed that he was also suspended and that his dismissal would be recommended on Tuesday.
Harris said Rides The Bear told the team they would find a replacement coach and asked them to train with the college team in the meantime. In solidarity with Harris, 24 of the 32 players opted out of training on Tuesday and said they would not make it to Circle without their coach.
On Wednesday, Rides The Bear called Jerry Harris to reinstate him. Jay Harris said he was convinced a judge would have issued a temporary restraining order.
"The allegations are quite strong and speak for themselves," he said.
Pretty On Top says it will have legal representation on Tuesday to "protect my rights". Barron travels with the team to cover meals.
Meanwhile, Jerry Harris was back Wednesday afternoon to prepare his 1-3 rebuild team for Circle and a team meal with all the players on Wednesday night. He said he hopes the district will learn of the incident.
"All of this could have been avoided if the board had stood up and got their hands on Trivian and said 'Slow down'," he said. "Even the board does not understand their duties. They are equally at fault. You would think they would have adopted something afterwards (2020, when Lodge Grass closed fall sports due to the pandemic) and prepare for it if it happens again. Instead, they just sat on their laurels and did nothing. It's like going back to square one.
"We're not looking to hang anyone or throw anyone under the bus. We want to bring the Lodge Grass administration and board, hey, there is a right way to do business. . Let's do it. "