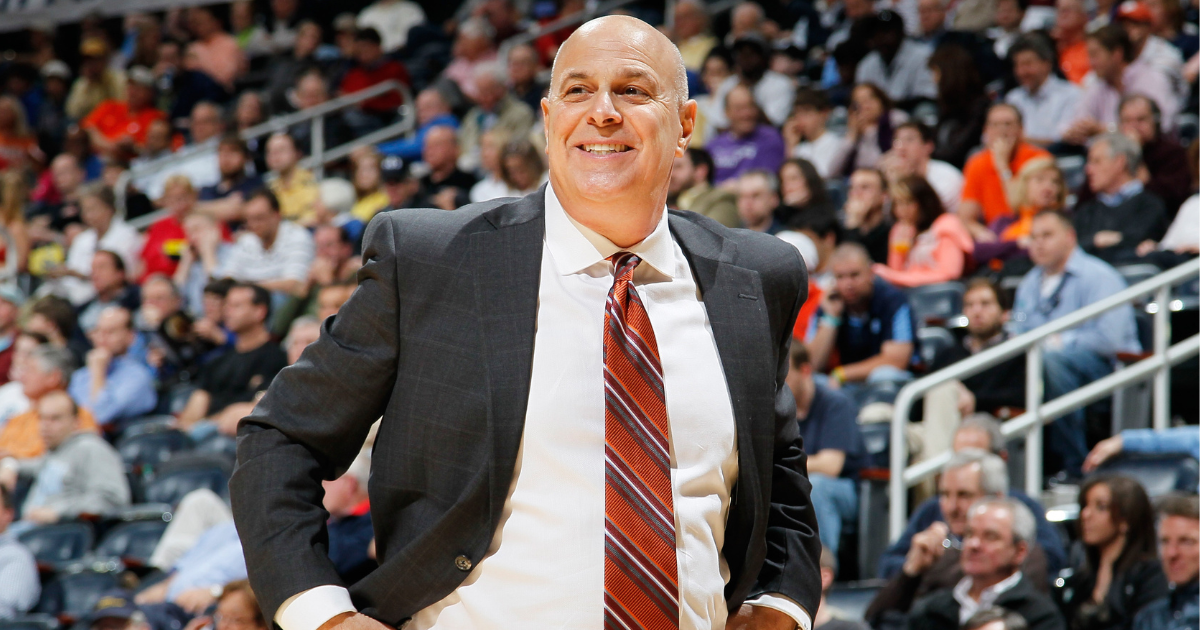 Seth Greenberg sides with Cal: 'He needs new facilities'
Of the 12 minutes John Calipari spent discussing Kentucky's need to improve basketball facilities in the Bahamas, he would like 30 seconds back — or a rephrasing, at a minimum. "I said the wrong thing," the British head coach said at the time. "…Sometimes it doesn't go well."
The other 11 minutes forgotten? These have not simply disappeared. Calipari believes the upgrades are needed, with a new training gym high on the priority list.
UK DA Mitch Barnhart disagrees, saying 'this is not a project we have put on our strategic plan' with the Joe Craft Center – built in 2007 – being just 15 years old .
"We continued to make improvements during this time," Barnhart said in August. "We have improved this facility time and time again. It continues to be a state-of-the-art facility. We really take care of it. »
Barnhart's assessment of Kentucky's facilities, however, doesn't quite match others in the college basketball world. Calipari's thoughts are clear: "It needs to be bigger and not leak like the one we have. It must be bigger because that's what they are now. People should walk in and see this and say, 'Whoa.' It's Kentucky basketball, the nation's gold standard.
ESPN's Seth Greenberg, who coached college basketball for 34 years – 22 as a head coach – and now covers games at different venues across the country for a living, sides with Calipari .
No, not because he's close friends with the Kentucky head coach and looking to push a program forward; he just keeps seeing other schools with better facilities. Others do advanced upgrades to make it happen.
And it's not one, two or even a handful of programs. Greenberg can name 50 schools with better facilities, including Virginia Tech, where he coached from 2003 to 2012.
"He needs new facilities," Greenberg told KSR on the Sources Say podcast this week. "I'm not Cal's spokesperson. Pat Forde wrote something like – Pat, do your homework man. I can name 50 schools that have better practice facilities than (Kentucky) it's outdated.
"It doesn't get any nicer than my practice facility at Virginia Tech. It's no nicer than VCU's training facility, no nicer than Illinois, no nicer than Arkansas, Auburn is moving into a new one. It's like that."
It's not even necessarily about what's brighter or glossier there. This is also due to the fact that the men's basketball program shares facilities with other sports, including the weight room. The trainers don't even have a common meeting space, which other programs — especially the blue bloods — have.
Kentucky does not.
That's not even taking into account the basketball dorms, upgraded in 2012 with the opening of the Wildcat Coal Lodge. With new, lavish student dorms popping up on campus seemingly every day, however, the team's living space isn't even the best at school anymore, let alone anywhere else. And it is noticeable.
"They need to improve the housing, they need to improve the practice facility," Greenberg told KSR. "They don't have a place to meet as staff, don't have a standalone weight room – they share it with a bunch of other sports. Let me tell you something, if you walk into Duke's training center, training center and weight room are not for more than one sport, they have a hangout as a staff.
"A self-contained building is what they need. The best programs in the country have stand-alone buildings built for men's and women's basketball. It's like that."
A stand-alone building is exactly what Calipari is looking for, something that would be "the centerpiece of the campus," he says. It would obviously feature new and improved practice courts and weight room, while also serving as a Kentucky basketball museum, including exhibits with interactive features, interviews with former players, trophies and accolades – basically a Hall of Fame. Include sports science departments and nutritionists while you're at it, creating an all-in-one, versatile facility spotlighting the program.
"All of this should be 20 years from now, and we can do it," Calipari said. "Everyone should be behind this."
Improvements are underway elsewhere on campus. The baseball facility "could be the finest in the country," Calipari says, "and I'm glad for that." Soccer? "200 million dollars." Soccer? "Unbelievable." And follow? "I love it."
And then you factor in the billions spent on student dormitories, dining halls, and the brand new 378,000 square foot student center, among other developments.
The necessary growth happens on campus. Calipari believes it's now his program's turn to be part of that growth – even if he has to raise the money himself, just as he did for the Rupp Arena dressing room in 2012.
"Now when people walk in they say there's no better dressing room," Calipari said. "How many years ago did we do this? This locker room will be fine for another 10 years.
"The locker room is great. Absolutely phenomenal – John worked really hard to get this thing built," Greenberg told KSR.
Anthony Davis sent Calipari a whopping $350,000 for flood relief in Kentucky this year alone. To be included in a project of this magnitude, one that includes a basketball museum highlighting the best players and moments in school history? A program that not only keeps this program moving forward, but gives it a substantial edge over the competition?
"They'll give to something like that," Calipari said. "These kids will."
Somehow it has to be built, says Greenberg. Upgrades are needed.
"Is their training center OK?" It's OK, but I'm not sure the people of Kentucky want OK," he told KSR. "They want the best of everything, because they're the ones you're trying to recruit. That's what you're recruiting against.
"Look, the reality is that everyone is building new facilities. If you recruit, you walk these players around the facilities – the size of the assistant coaches office, the lack of meeting room. Tom Izzo's movie theater upstairs in their office complex is an amazing theater. Obviously, Kentucky has theirs in the locker room.
Again, a Calipari locker room raised funds to build it themselves.
"(The training center) is not up to par with the best in the country," Greenberg told KSR. "I think Kentucky would want the best in the country."
Calipari laid out plans for the 2012 Kentucky locker room upgrade on a whiteboard. The architects took those plans, drew them up professionally, and the renovation was completed in "eight or nine months."
It's more important, obviously, but the British head coach believes the project can be finished in a year or two. "With the funding, it will move," he said. And the hope is that it will shake up the landscape of college basketball for more than two decades.
"I want this, whatever we do, 20 years, everyone's still talking," Calipari said. "By building it the right way, we can do it and we can raise money. But you have to start and you have to have men's basketball champions. Who are the champions? It can't just be me.
He is not alone in his thinking. Now he hopes the school will also accept the idea.
Otherwise, Calipari has a roster of over 50 draft picks ready to answer his call.